In these days, it is not easy to prevent theft of your green transport medium (i.e. bicycle, etc). That's why I have some tips on how to prevent or at least significantly reduce the chance that your bicycle will be stolen. I have used this method for years now with much success. Please be prepared to be flexible with aestetics….
Note that this article was originally written for Dutch people, who all have at least one bicycle which they use for transportation purposes. This is not the case for many other countries. But the approach explained here can be applied to other items too.   

I have shown in the Dutch article To work by bicycle that a lot of energy and CO2 can be saved when using the bicycle as your  transportation to go to work. Of course this bicycle can be used as well for short distance travels of any kind. Unfortunately, the modern world we live in, it is not always certain that you will find your bicycle when you return  (in locked state). That's why we present a tested method for anti-theft, which I have used successfully on my expensive bicycle with front and back suspension….
Types of bicycle thieves
A thorough research of a Dutch advice-agency Regioplan from 1995 and a research done by magazine "Vogelvrije Fietser" divided bicycle thieves in four categories:
incidental thieves
occasional thieves
addicts (maybe only in the Netherlands?)
professional thieves
Incidental and occasional thieves
These thieves are on the lookout for bicycles for their own usage. For them it doesn't matter much about the aesthetic state of the bicycle. They prefer a bicycle that doesn't catch the eye as much as it is functional. They look for bicycles with an easy-to-open lock since they lack professional tools.
Addicts
If addicts steal then that is to sell the bike to get money. These are specialized in one or two lock-types and are very agile to open these; often even faster than the legal owner with the key!
Professional thieves
Professional bicycle-thieves steal a bicycle to sell it. This type of thief has professional gear that will open every lock. They are on the lookout for nice and new bikes that will surely give a good selling price. 
So now you know the diverse rationales, and your task to discourage such theft.
Good lock
The most obvious solution is to use a good lock. Chose a safetylock, in the Netherlands an [ART-approved lock](http://www.stichtingart.nl/). A good lock has the following requirements:
* The lock shall enable attaching the bicycle to a pole or something else that is already fixed in place. This prevents the bicycle from being placed in a bus where they take the bike to a quiet place where there is enough time to open the lock with a number of tools.
* The lock cannot be cut. This leads to heavy chainlocks or U-formed locks. There are U-formed locks which consist of heavy steel tubes that require too much manual force to cut.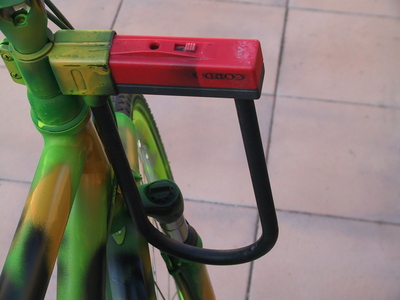 A Good U-lock
As I explained before, a good lock helps against the first three groups: incidental, occasional thieves and addicts. The professionals remain, for which we have a good solution too…
Make your bike Unsellable
A new bicycle looks nice. This is why professionals can make a good selling price. The trick is to make the bike unsellable, and how do you do that?
The bicycle after the paint job
To ensure that the paint result is really ugly, spray it very closel, such that drops occur and make ugly lines over bottom parts.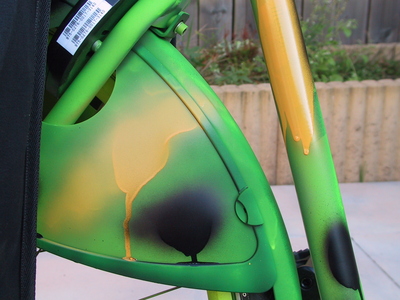 The lines coming from excessive paint are essential for an ugly effect.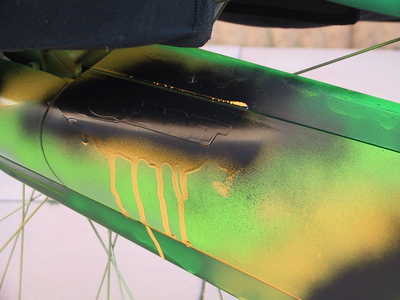 I start to enjoy it…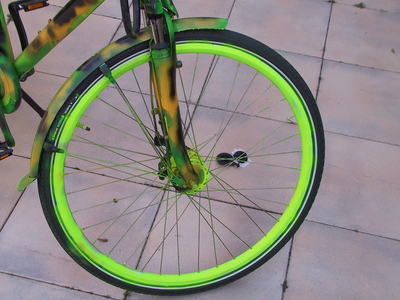 Bright fluorescent rims make the finishing touch…
The preparation
Good painting requires some preparation, since we still want to be able to bicycle comfortable afterwards, without risking ruining our clothing. So before the actual painting, please cover with tape the following items (if present):
Frontlight and backlight. Pay attention to protect any sensor from the paint as well.
Suspension to make sure it doesn't lose the functionality when paint enters parts of the suspension apparatus.
The bicycle's serial number. It must remain highly visible for maintenance or repair under warranty in a bicycle shop.
The bicycle's lock. It informs thieves that there is a quality lock and as you use it daily, you do not want the paint to come off when using the lock. 
The saddle.
Any reflectors on the bike.
Gear changers, handgrips.
The chain.
Remove any bags before starting to paint.
If you use painters tape and remove it just after the paint is dry, then it will be easy to remove. You can use a bag to protect the saddle when painting.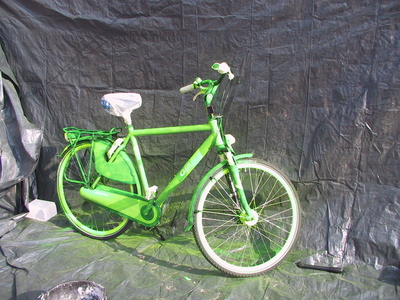 The bike's parts are protected with tape and the first layer of paint is applied
Some details
After all the tape has been removed, the result is just fine.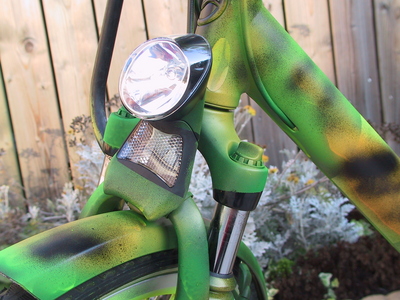 The frontlight and suspension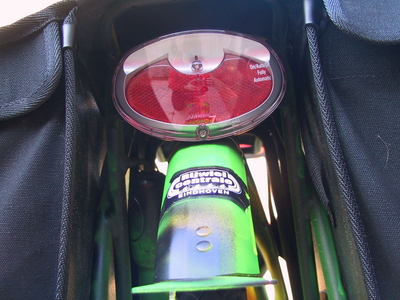 The backlight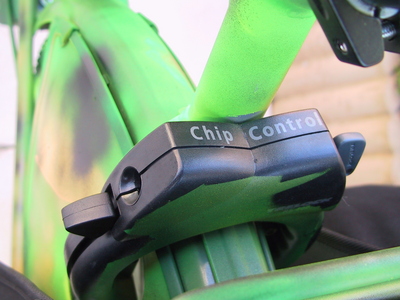 A new lock can keep away some thieves
An expensive saddle can be hidden under a saddledeck.
A saddledeck hides the quality of the saddle underneath it…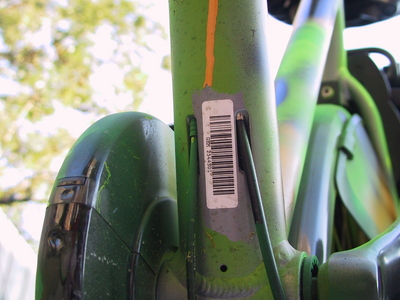 Make sure the serial number is easily visible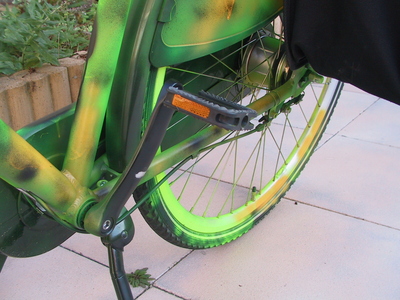 Reflectors are important for your own safety
Tips to lock a bicycle securely
Here some tips which I found on the website of the Dutch bicycle group fietsersbond.
Many thieves are specialized in one lock type. Therefore use two different types. It will also delay the act.
Attach the bicycle to a fixed item; bridge, pole, fench etc. This prevents taking the bicycle away to a safe and quiet place.
Attach the lock to the frame and the front wheel. When brute force is used to warp the lock, the front wheel will also be damaged, meaning a bicycle that sells less well.
Attach the lock so that it cannot touch the ground. This will not allow the thief to smash the lock with hard items like stones.
With a chain lock, twist it around the bicycle and fixed item several times so that there is little space left for a thieve to use his tools to open the lock. Also it prevents putting cutting tools to use the ground to apply additional force. The best chainlock needs 51 kN force to cut it, while manually only 11 kN seems feasible. 
With a U-type lock: do not attach it in the centre of the frame; the frame can be used to twist such that it works as a lever to open the lock.
It's not enough to only lock the front wheel; sometimes the front wheel is detached and the bicycle can then be removed.
Park the bicycle at a place  opposite to where people are waiting (bus stop, etc.); thieves do not like people watching. However, avoid a place where people are only walking, as they will not tend to notice someone taking your bicycle.
A shiny bike amid many old bikes is too attractive. Use a plastic bag over the handle bar and or saddle (seat) to camouflage it.
Put the bike in a supervised area.
5 Responses to "Theft protection of your bicycle"
Leave a Reply